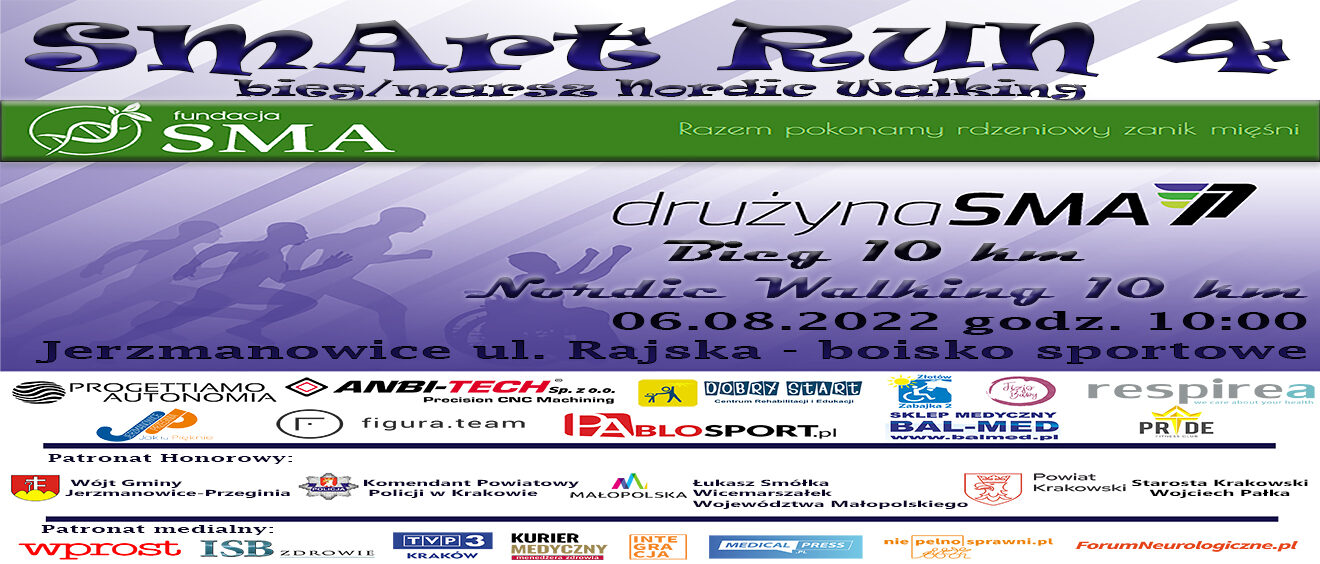 SMArt RUN – bieg dla chorych na rdzeniowy zanik mięśni
Zbliżający się sierpień to Miesiąc Świadomości Rdzeniowego Zaniku Mięśni (SMA). Fundacja SMA oficjalnie zainauguruje go w pierwszą sobotę tego miesiąca, organizując wyjątkowe wydarzenie – 4. bieg/marsz SMArt RUN. Odbędzie się ono 6 sierpnia 2022 r. w Jerzmanowicach pod Krakowem.  
Start zawodów 6 sierpnia 2022 o godzinie 10:00 w Jerzmanowicach na ul. Rajskiej. Bieg odbędzie się na dystansie 10 km. Limit czasu to 3 godziny. Dystans można przebyć też szybkim marszem lub spacerem. Wszystkie formy się liczą i są dla nas bardzo ważne!
Aby wziąć udział w biegu należy:
– zarejestrować się na stronie https://dostartu.pl/smart-run-4-v7375
– opłacić udział w biegu
– pokonać biegiem lub marszem dystans 10 km.
Strona 4. SMArt RUNu na FB: https://www.facebook.com/events/717050589532397
ForumNeurologiczne.pl jest patronem medialnym wydarzenia.
WIĘCEJ INFORMACJI —> TUTAJ